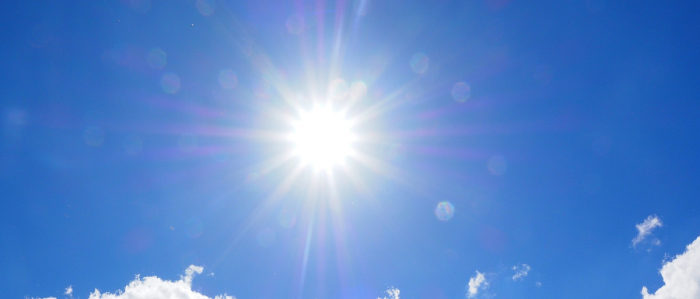 Beat the Summer Heat
It's been a hot, hot summer in North Carolina!
Whether you're on a job site, on vacation at the beach, or in your backyard, we want you to stay safe in the heat.
Here are some ways to protect yourself when you're out in the sun:
Staying Safe
Water
Drink water all throughout the day. Drink four cups (32 ounces) every hour.
Avoid or reduce the amount of caffeinated and sugar-filled drinks – they just make you more thirsty.
Drink even if you aren't thirsty.
Rest
Take it easy the first couple of days on the job or on vacation until you are more acclimated to the heat.
Take a five-minute break in the shade whenever possible.
Shade
Wear a wide-brimmed hat that keeps your face, ears and neck shaded.
Apply sunblock to all exposed skin.
Wear light-colored clothes.
Wear long sleeves and pants made of lightweight material.
When to Call for Help
Too much sun exposure can cause serious illness like heat exhaustion or heat stroke. Move to a shaded area and call 911 if you, or anyone you're with, are experiencing these symptoms:
Signs of Heat Exhaustion
Dizziness
Headache
Sweaty Skin
Fast Heartbeat
Nausea or Vomiting
Weakness
Cramps
Signs of Heat Stroke
Red, Hot, Dry Skin
High Temperature
Confusion
Fainting
Convulsions
Check out more summer safety tips from the American Red Cross on heat safety, water safety, driving safety and grilling safety.
Summer is the most fun when we plan and stay safe.