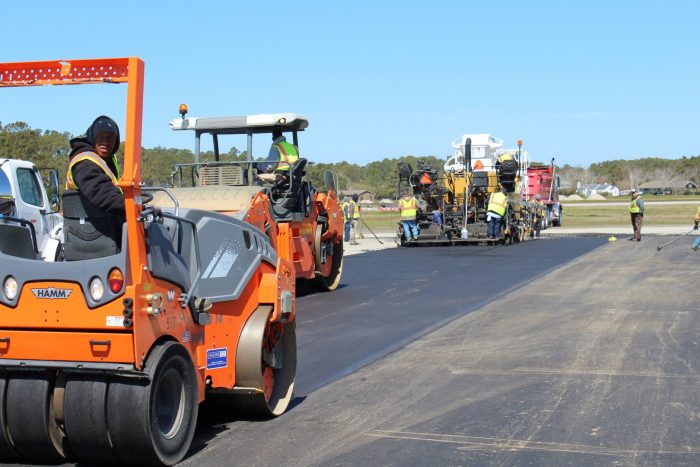 From Ground to Air
Today is the first day of National Aerospace Week. We may work on the ground, but we're proud to help ensure many smooth takeoffs and landings in eastern N.C.
We've worked on several airports, handling everything from runway paving to environmental mitigation. Some of our airport projects have included:
Wilmington International Airport (2013) – Pavement and rehab (mill and fill), installation of high density stress relief inter-layer to deal with existing transverse cracks, and mix designs. Winner of the NAPA Ray Brown Award 2014.
Marine Corps Air Station Cherry Point (2015-2016) – Pavement and rehab (mill and fill) on two runways, joint repairs across the runways, and mix designs.
Wilmington International Airport (2015) – Re-route streams underground and perform grading to mitigate wildlife attraction.
This spring, we completed a project for Michael J. Smith Field in Beaufort, N.C.
Graded and paved a new taxiway for the primary runway.
Rehabbed parts of another taxiway and runway.
Grading, drainage, soil-cement stabilization, paving, lighting and marking.
The airport is just three feet above sea level. The airfield drainage system was not equipped with tide gates, so the groundwater rises and falls as much as two feet in the area depending on the wind.
Add in Tropical Storm Hermine and Hurricane Matthew, and this was one wet project. To deal with the water, we:
Excavated below sea level for stabilization.
Used 7,000 linear feet of sock drain for dewatering.
Ensured a stable taxiway by using the soil-cement stabilization process.
Regardless of why or when you fly, we hope you have the smoothest of journeys.