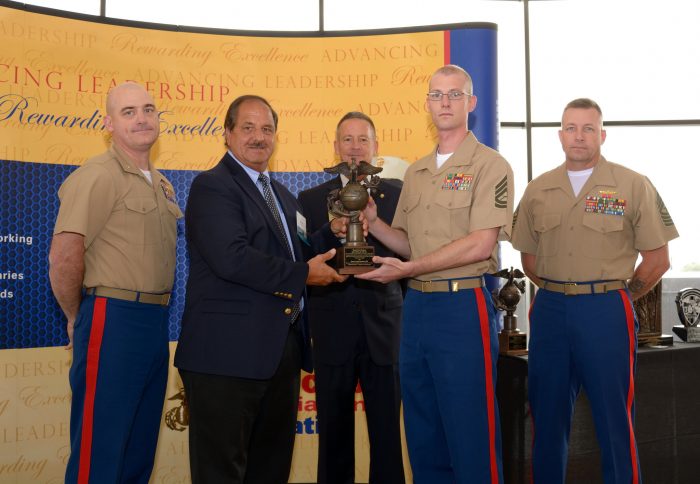 Thanking Our Wounded Warriors
In September, two of our leaders were honored to have lunch with some special military leaders. For the second year in a row, S.T. Wooten sponsored the Wounded Warrior Leadership Awards.
These awards are given by the Marine Corps Association & Foundation. S.T. Wooten sponsored the Enlisted Leadership Award.
Vice President Greg Nelson presented the award to Gunnery Sergeant Jonathan B. Faff. The ceremony was held at Marine Week in Detroit.  Nelson and Division Manager Len Hunt attended the lunch and awards.
About GySgt Faff
GySgt Faff is an Iraq veteran with a long history of leadership. Early career roles included squad leader, platoon sergeant, and platoon commander.
He was an Assistant Team Chief for Security Cooperation Team in Uganda and served as watch officer of the Security Force at the U.S. Embassy Tripoli.
In 2014, he was a section leader for Wounded Warrior Battalion-East, A Company. He is currently the Staff Non-Commissioned Officer in Charge (SNCOIC) of the Landstuhl Detachment in Germany.
Congratulations, GySgt Faff!