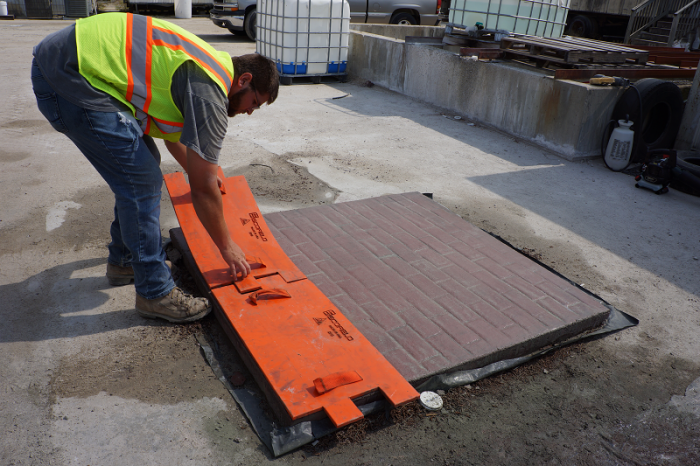 Putting Our "Stamp" On Rowan Street
This past summer, our crew working on the Rowan Street project in Fayetteville took on a new task – "stamped concrete." On past projects, we subbed out this work.
We installed the stamped concrete on both bridges leading up to the new Rowan Street intersection. The stamped designs were applied to the medians and "monolithic islands."
What is Stamped Concrete?
To put it simply, stamped concrete is like standard concrete, but it's more decorative. Concrete is typically gray, while stamped concrete often has color added and is printed to create a design.
"Installing stamped concrete is a first for S.T. Wooten and will open the door to great opportunities for the company," said Superintendent George Boise.
How do you Make Stamped Concrete?
The process of applying stamped concrete is not much different from regular concrete. Our crew just adds a few steps to make the product more decorative.
For the Rowan Street project, we used a brick design. The design matches existing sidewalks in the area and other recent projects throughout Fayetteville.
Here's how it worked for this brick design:
ADD COLOR AND POUR THE CONCRETE. We added red color to the concrete at the plant, then trucked it and poured it on the jobsite.
STAMP THE CONCRETE.
After we leveled the concrete, we sprinkled a charcoal-colored release agent (similar to a very fine powder) by hand onto the concrete. When the agent combined with the red color, it made the print look aged.
Then, we pressed down the actual rubber stamps onto the concrete to create the design.
The stamp made an indentation shaped like a brick. We used the stamp until the entire area was covered – the pattern fit together like a puzzle.
Lastly, we used push brooms to push the charcoal color further into the print. This process is also known as "antiquing."
FINISH THE PRINT. After 48 hours, we washed off anything left over from the antiquing process, sprayed a clear coat agent to make the concrete shine, then swept the surface.
"Decorative designs in pavement have become a trend in the industry, as many commercial projects are using stamped concrete across the state," said Boise. "I'm excited to see how we incorporate the product down the road."